We Need a New Dormitory in Maruvango
At the present time there are 1500 children at the primary and secondary schools in Maruvango. There are many children that must walk 5 miles each way to come to school. Often, at the upper level, it is the girls that must walk the most often. That is because the boys have dropped out of secondary. The girls must make this trek daily, as there is no place to reside at the school. This means they must begin at 6:00 in the morning, generally after they have collected water for their own family. On the way the girls have been raped. The kids have told me of this, as has the Headmaster of the school.
We would like to construct a dormitory only for girls at the secondary school. This would consist of 10 beds with bed nets. There would be a WC in the building. There would be solar power on the roof. There would need to be a rain catchment unit for the building also. It would be best to have a small kitchen also so the girls or their "room mother" could prepare some meals.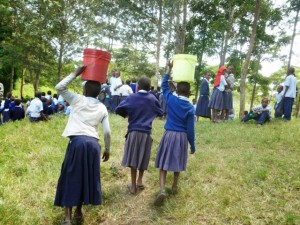 This building would be used for the girls to live in all year. They might return to their own homes on weekends. We are sure that the other students in the school would want to study in this room, as it would be the only structure with solar power at the school.
It would be possible to attract visiting nurses if there were a place to stay. We could use the room for the nurses to administer shots, give out medications. Malaria and typhoid are very common in the village.
We could also attract young volunteers that could teach English to all students. We are developing a curriculum for this purpose. The children learn English beginning in the 4th grade. Beginning in secondary, all classes and exams are in English.
The cost of this structure will be $30,000 (US). Won't you please help?